Background

Workshop Structure and Papers

Organizing Committee

Celebration

Timetable
Revised: 12 Nov 2003
(pdf, 126K)

Abstracts
Announcement
(pdf, 494K)

Recommendations



In association with a celebration of the 150th anniversary of the
Brussels Maritime Conference of 1853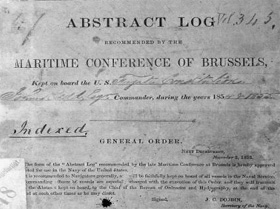 Brussels, Belgium, 17-22 November 2003
Objectives of CLIMAR-II:
To celebrate the 150th anniversary of the Brussels Maritime Conference of 1853.
To receive appropriate input for the dynamic part of the WMO Guide to the Applications of Marine Climatology, emphasizing new technologies.
To provide guidance/technical support for National Meteorological Services.
To make further contributions to the data and metadata of ICOADS.