The ICOADS website will be down starting Friday March 6th at 5:00pm MST for 24 hours for building maintenance.
International Comprehensive Ocean-Atmosphere Data Set (ICOADS)
Chronology and News Figure 2
---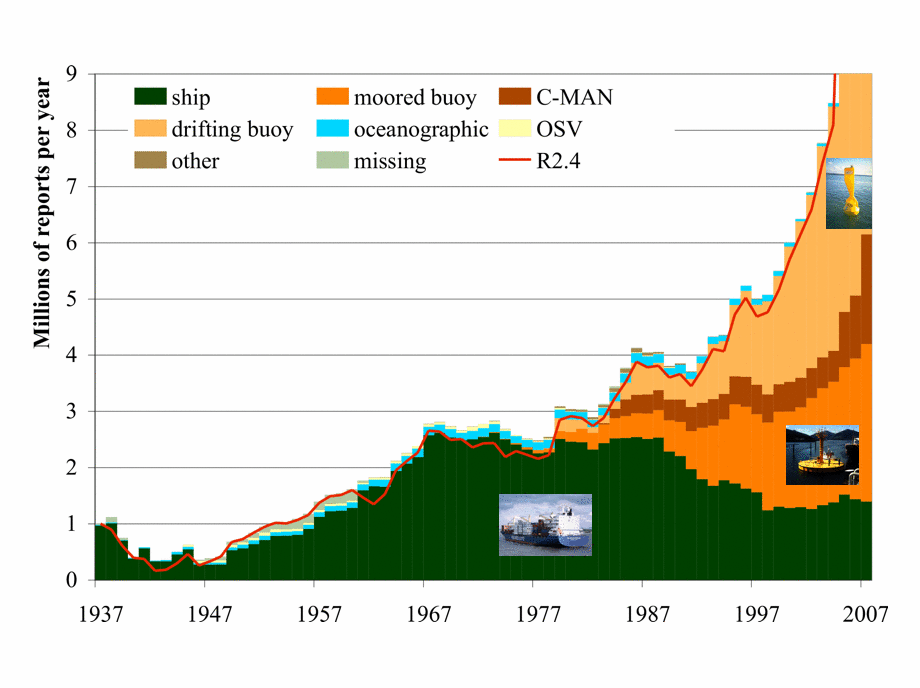 Figure 2. Annual distribution (1937-2007) of major platform types in Release 2.5 shown as millions of reports per year. For clarity the vertical scale is truncated at 9M; years 2005-07 have 13M, 15M, and 16M total reports (not visible) in Release 2.5, respectively. The red line curve shows the Release 2.4 annual counts. Ships (mainly VOS plus some R/Vs), buoys, and oceanographic are self explanatory, Ocean (permanent) Station Vessel = OSV, Coastal-Marine Automated Network = C-MAN, ocean drilling rigs/platforms and other small entities = other, and unidentified platform types = missing. (Ship photo courtesy of www.ShipPhotos.co.uk.) Figure adapted from: Woodruff, S.D., H.F. Diaz, E.C. Kent, R.W. Reynolds, and S.J. Worley, 2008: The evolving SST record from ICOADS. In Climate Variability and Extremes during the Past 100 Years (S. Brönnimann, J. Luterbacher, T. Ewen, H.F. Diaz, R.S. Stolarski, and U. Neu, Eds.), Advances in Global Change Research, Vol. 33, Springer, 65-83.
---
Data and Documentation | Chronology and News | Project Status | Publications | Related Data and Resources | Contact Points
---
NOAA/ESRL/PSD hosts the icoads website privacy disclaimer
Document maintained by icoads.webmaster@noaa.gov
Updated: Jul 27, 2009 11:30:51 MDT
http://icoads.noaa.gov/news_fig2.html